The province of Malaga hides many picturesque villages worth visiting. Sea, mountains, unique landscapes, gastronomy, culture… In this summary we have selected some of the best villages near Marbella that you cannot miss.
It is a picturesque white village located in the hills of the Costa del Sol, about 35 minutes drive from Marbella. This charming Andalusian village is famous for its traditional architecture, with narrow cobbled streets winding up the mountainside. From the heights of Mijas, you can enjoy spectacular panoramic views of the Mediterranean Sea.
It has several places of interest: The Mirador de la Virgen de la Peña is one of the most outstanding, offering breathtaking views of the sea and the surrounding landscape. The Historical-Ethnological Museum is an excellent option to learn more about the history and culture of the region. However, one of the most iconic experiences is to take a donkey-taxi ride through the cobbled streets of the village, a unique and picturesque way to explore Mijas.
The village is also home to a wealth of restaurants, bars and shops offering local produce and crafts. It is an ideal place to stroll around and soak up the Andalusian culture in an authentic setting.
Ronda, one of Andalusia's most impressive cities, is about an hour's drive from Marbella. Situated on a deep gorge known as the Tajo de Ronda, the city is divided into two parts, the Old Town (La Ciudad) and the New Town (El Mercadillo). This unique location gives it a spectacular natural beauty and a rich history that has attracted visitors for centuries.
Ronda is famous for its impressive architecture and historical monuments. The New Bridge is one of the city's most emblematic landmarks, built over the Tajo, and offers spectacular views of the landscape. Ronda's Bullring is one of the oldest and most prestigious in Spain, and its bullfighting museum is an interesting place to learn about the culture of bullfighting. You can visit the Arab Baths, a vestige of the Muslim presence in the region, and the Cuenca Gardens, which provide a beautiful contrast of nature in the middle of the city. Ronda's old town is a maze of narrow cobbled streets, where you'll find numerous shops, bodegas and restaurants offering Andalusian gastronomy, with traditional dishes such as gazpacho and oxtail.
The city is also known for its literary history, as the poet Rainer Maria Rilke and the writer Ernest Hemingway spent time here and were inspired by its beauty. Ronda offers a unique experience combining history, nature and stunning architecture in a breathtaking mountainous setting that will leave you with unforgettable memories.
Estepona is a coastal town that combines Andalusian tradition with a modern twist. Located about 20 minutes drive from Marbella, it is a perfect destination for those who wish to enjoy the coast and Andalusian culture in a relaxed atmosphere. Estepona is characterised by its beautiful promenade and golden sandy beaches, making it an ideal place to relax and enjoy the sun.
Estepona's Old Town is a charming place to explore, with narrow streets and whitewashed houses decorated with potted flowers. The Plaza de las Flores is one of the most emblematic places, with its outdoor cafes and restaurants. The Parque de las Mesas is a green space that offers shade and is perfect for a leisurely stroll. The Punta Doncella Lighthouse is another landmark offering panoramic views of the sea and the African coastline on clear days.
Estepona is known for its atmosphere and its focus on local culture. You can enjoy Andalusian gastronomy in its many restaurants and bodegas, where dishes such as pescaíto frito (fried fish) and gazpacho are popular. In addition, the town hosts cultural events and festivals throughout the year, giving visitors the opportunity to experience authentic Andalusian life.
Frigiliana is one of Spain's most beautiful towns. Its natural beauty and historic charm set it apart from other Costa del Sol destinations.
The Mudejar quarter of Frigiliana is one of the most remarkable places, with its narrow, winding streets leading you through a tangle of white houses, cobbled squares and flower-filled patios. The church of San Antonio is a historic monument with impressive Andalusian architecture. The Panoramic Belvedere is an ideal place to enjoy panoramic views over the city and the Mediterranean.
Frigiliana is also known for its local crafts, such as ceramics and textiles, which can be purchased in local shops. The town is famous for its Festival of Three Cultures, which celebrates the region's Arab, Jewish and Christian heritage and features traditional music, dance and food from each culture. Its combination of natural beauty, history and authenticity makes it a unique destination on the Costa del Sol.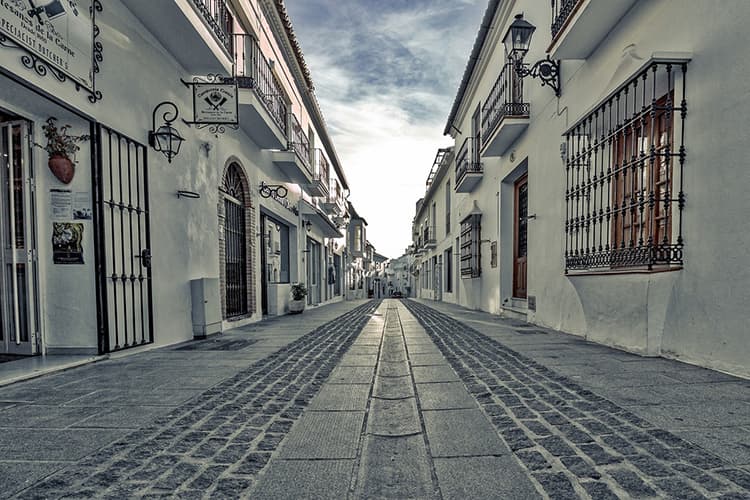 Gaucín, located in the mountains of the Costa del Sol, is a picturesque white town that exudes authentic Andalusian charm. Its whitewashed houses and cobbled streets will transport you back to a bygone era. Gaucín offers a calm and relaxed atmosphere, ideal for those looking to escape the hustle and bustle of the coast. The town is about an hour's drive from Marbella, making it an ideal getaway for exploring the spectacular mountain scenery.
Gaucín is famous for its Águila Castle, which dates back to Moorish times and offers superb panoramic views of the surrounding countryside and the Mediterranean. The Queen Victoria Viewpoint is another not-to-be-missed spot, with panoramic views over the region and the sea. The Church of San Sebastián is an architectural gem well worth a visit, and its Andalusian charm is undeniable. The town itself is an ideal place to stroll and discover the delights of Andalusian culture in an authentic environment.
A peaceful destination, perfect for enjoying the natural beauty of the region and discovering the authenticity of a white Andalusian town.
Casares is a charming white town set on a hill overlooking the Mediterranean Sea. With its typical white Andalusian village architecture, whitewashed houses and steep streets, this place exudes a picturesque charm. Casares is around 30 minutes' drive from Marbella and offers the perfect escape from the coast, allowing you to immerse yourself in the authenticity of the region.
Casares Castle is one of the town's main attractions. This historic castle has walls and superb panoramic views. The Gothic-Mudejar La Encarnación church is another important monument, with its distinctive architecture. The Carlos III fountain is a popular place to rest and refresh yourself. What's more, as you explore the steep streets of Casares, you'll come across numerous craft shops and restaurants serving traditional Andalusian dishes.
Casares combines the authenticity of a white Andalusian town with its relaxed atmosphere and spectacular views over the Mediterranean. It's an ideal place to wander around and discover the local culture, as well as enjoying the beauty of its natural surroundings and historical heritage.
Benahavís, known as the 'dining room of the Costa del Sol', is a charming mountain village around 15 minutes' drive from Marbella, famous for its gastronomic scene, which includes a wide variety of top-quality restaurants serving traditional dishes and international cuisine.
As well as the food, Benahavís offers opportunities for outdoor activities, such as hiking in the Sierra de las Nieves National Park. Hiking trails take you through lush forests and stunning natural landscapes. The mountainous environment is also ideal for cycling and horse-riding.
It's a town of narrow cobbled streets, whitewashed houses and flowers hanging from the windows. Although it is known for its gastronomy, it also hosts cultural events throughout the year, giving visitors the chance to immerse themselves in Andalusian life and enjoy its traditional charm.
Ojén is a quiet, white town just a 15-minute drive from Marbella.
The church of Nuestra Señora de la Encarnación, with its typically Andalusian architecture and bell tower, is one of the town's most emblematic landmarks. And don't forget to stop off at the Paseo de los Poetas, a magnificent tree-lined path adorned with statues and poems written by famous poets. It is a tribute to the literary figures who visited the region and were inspired by its beauty.
Ojén is the perfect place to stroll along its cobbled streets and discover its peaceful atmosphere. Despite its proximity to bustling Marbella, Ojén retains a slower, more authentic pace of life. Here you can enjoy Andalusian hospitality and sample traditional dishes in its local bars and restaurants. It's an ideal destination for those who want to experience the authenticity of the region in a picturesque and charming setting.
Have you decided yet? We hope our selection of towns near Marbella to visit has helped you and that you have an unforgettable day out.