If you're heading to Marbella, maybe you want to try your hand at this sport that is suitable for everyone. We list the best places to paddle surfing in marbella, even take a course, so you can ensure that you're in good hands as you learn. In case you haven't already heard of this popular trend, Paddle Surfing or SUP (Stand Up Paddle) has grown in popularity in recent years. This aquatic sport is popular and has plenty of health benefits that we will discuss in this article.
Paddle surfing is a sport that originated from the ancient Polynesian people who travelled on the surface of the water on top of a board, using a paddle to allow the navigator to glide through the water. This sport is now practised on any large body of water such as lakes, rivers and of course, the sea.
The Mediterranean Sea is the perfect place to begin your paddle surf journey, with calm seas and sheltered coves which will make learning a breeze.
Benefits of practise paddle surfing
Paddle surf has plenty of benefits, both for your body and mind. This sport is suitable for anyone and does not require any prior training or expertise, it will help you develop your sense of balance by working the abdominals, the primary muscles that are involved in balance and will improve your posture, due to the focus on balance and remaining upright on the board. This will benefit you in your everyday life and make you more aware of your posture.
Aside from improving your posture, the tiny micro-adjustments that you will have to make to stay balanced on the board will sharpen your reflexes, ensuring you are more aware and develop a better sense of proprioception (the awareness of where your body is in space). And though it is normal to fall off the board now and again, especially as you are learning, it may be refreshing to have a dip and cool off, before you get back on your board and start again.
So as you can see, there are countless benefits to getting on your paddle board, so without further delay, we will look at the best places in Marbella to paddle surf and learn this fantastic sport!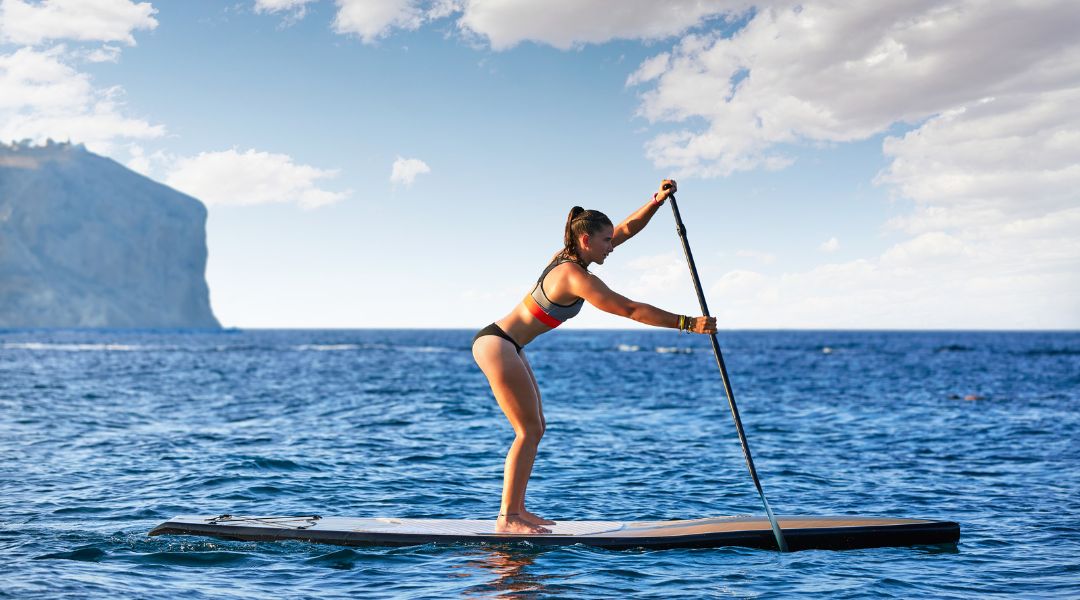 Where to practise paddle surf in Marbella?
Paddle Surf Marbella
Paddle Surf Marbella is a professional school that will guide you into the world of paddle surfing, you can enjoy an hour-long course to teach you the basics of paddling, safety and different positions on the board, including finding your feet and entering turns. Their small group courses offer careful tuition with a maximum of 3 students. You can enjoy the course for 1 hour for 50 euros, or 2 hours for 80 euros, so grab your friends and hit the beach to begin your paddle surf adventure!
Nalusur
Aside from Paddle Surfing classes for beginners, if you want to enjoy a unique sunset paddle surfing experience, Nalusur offers a 2.5-hour-long sunset paddle for groups of a minimum of 4 people. The tours are suitable for beginners as well. Discover the bay of Marbella with the majestic mountains of Sierra Blanca in the background bathed in the magical light of the setting sun. In this experience, you will also learn the basics of paddle surfing technique and safety, with the class starting out at the Marbella harbour. The experience is finished off with a drink at a local bar. Prices start at 45 euros per person.
Nalucamps Summer Camp
If you're looking for activities to keep the children entertained this summer, you can sign them up at Naulcamps, they offer many aquatic activities including surfing, paddle surfing and kayaking with prices starting from 155 euros for one week. Spaces are limited and advanced bookings are recommended.
Samoa Surf Shop
Samoa Surf Shop is a school and rental company for kitesurf, windsurf and SUP. They offer private and group classes for all their activities and for those in the family that are not so keen about getting on the water, you can even rent bikes from them.
If you have a sedentary lifestyle or a lot of stress, getting on a paddle board in calm surroundings will bring you a sense of tranquillity, allowing you to relax and allow you to connect with your body and disconnect with the everyday hustle and bustle. Exercise for at least 10 minutes a day helps to promote the flow of endorphins, the happy hormone, around your body and also encourages better sleep quality through the production of melatonin.
Outdoor sports and especially paddle surfing at sea will allow you to see a different perspective of your surroundings while enjoying a relaxed mental state.
With so many options to choose from, you'll be sure to entertain the whole family, whatever their preferences. So don't wait and book your first steps to practise paddle surfing in Marbella today!