Without a doubt, rooftop bars in Marbella have become one of the most popular options in recent years. One of the main attractions is the impressive view they offer. Being located on top of a building, they allow you to enjoy urban panoramas or natural landscapes from a unique perspective. The combination of good company, drinks and a spectacular view creates a memorable experience.
In addition, they usually have a sophisticated and exclusive atmosphere. The restricted access through the elevators or stairs of the building gives them an air of elegance and exclusivity. This attracts people looking for a special place to relax, socialize or celebrate special occasions.
Being on the roof of a building provides a feeling of being away from the hustle and noise of the city. Rooftop bars offer a calm and pleasant oasis in the middle of the urban environment, allowing visitors to enjoy a more relaxed and calm environment. Many are designed to provide an open-air experience. Outdoor spaces, such as terraces or patios, are ideal for enjoying the weather, especially in cities with hot seasons. The combination of drinks, food and fresh air contributes to a pleasant and attractive atmosphere.
Thanks to the warm climate of our city, you can enjoy these sophisticated bars throughout the year. Marbella is known for its lively nightlife, and rooftop bars are a big part of that scene. These venues often offer live music, DJs, and special events that allow you to enjoy live entertainment while relaxing with friends or meeting new people.
Our top 5 of the best rooftop bars in Marbella
Enjoying a summer night in the "rooftop" bars on the rooftops of Marbella is really rewarding. After spending a sunny day at the beach or at the pool, the idea of ​​dressing up and looking for a rooftop bar is enchanting. In Puerto Banús, Marbella, San Pedro Alcántara and Estepona, there are multiple options of "Rooftop Bars" to choose from.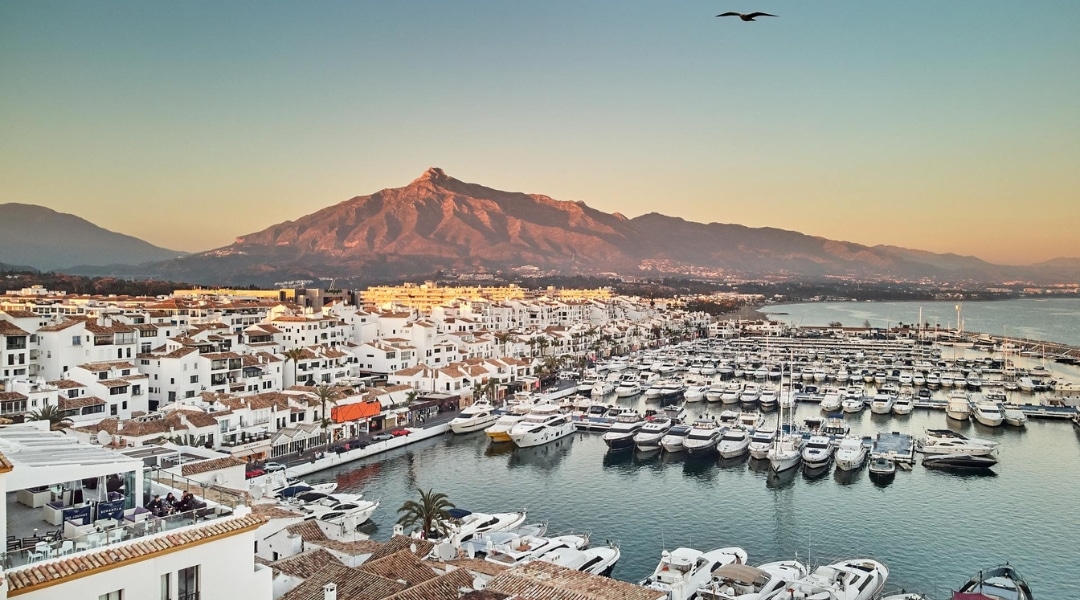 1. BENABOLA SKY LOUNGE:
Benabola offers an extraordinary terrace called SKY LOUNGE, where you can relax and live unforgettable moments. During the nights, you can taste its exquisite cocktails and most popular drinks while enjoying the impressive views of the Mediterranean Sea and Puerto Banús.
The charm of Puerto Banús attracts people from all over. From celebrities to bachelor party groups, and of course, all the glamour of renowned national and international brands.
If you are looking to immerse yourself in the exclusive atmosphere of our terrace bar, Benabola Sky Lounge offers you all the comforts and splendor necessary to have a good time.
2. PANGEA
Located in Puerto Banús, Pangea is one of the most luxurious and popular nightlife establishments in Marbella. It is an exclusive open-air nightclub that offers a wide variety of events throughout the summer. If you want to spend a fun, different and glamorous night, this is your place.
3. AIR BY BREATHE
This sky bar is the perfect destination to end the day and start the nightlife, offering a relaxed, sophisticated and lively atmosphere, in the most glamorous tradition of Marbella.
With its stunning views and comfortable terrace seating, one feels as if one is on a boat, but with views of Puerto Banús, Marbella and the majestic La Concha mountain. It is the ideal setting for one of the coolest night spots in the city, a space designed for friends, socializing and enjoying, both for special and romantic moments and for events.
Elegant water fountains, the subtle touch of vertical greenery and fascinating water tanks complement the elegant 21st century décor and the classic cocktail, champagne and oyster bar. Here, you can sip freshly made drinks in style and enjoy refreshing and delicious snacks.
4. TIBU MARBELLA
At TIBU you can spend a great night with first class music and live shows by the best DJs and international artists. This nightclub offers you a large outdoor terrace to enjoy a fun-filled night under the stars. Also, you can start the evening with dinner in our restaurant and then immerse yourself in an incredible clubbing experience inside. Without a doubt, TIBU is an essential place to visit during your stay in Marbella.
5. TURN
The VIRAZÓN rooftop bar is located in a privileged location in the heart of Marbella, in the Hotel Lima, close to the promenade, the marina, Alameda Park and the old town. From the rooftop, you can enjoy incredible views of the city. The exclusive area on the roof of VIRAZÓN has a swimming pool, sun loungers, comfortable armchairs and beautiful views of the majestic La Concha mountain.
If you doubt, going to a "rooftop" in Marbella is an experience that combines impressive views, a sophisticated atmosphere, the possibility of enjoying the outdoors, delicious cocktails and a lively nightlife. It is an opportunity to enjoy a unique and special evening in one of the most beautiful cities on the Costa del Sol.