Marbella is a luxury resort town on the Costa del Sol and has long been an attractive destination for the rich and famous. Often considered Southern Spain's St. Tropez, you can rub shoulders with the glamorous and trendy at the hottest nightclubs, beach clubs, restaurants, and bars.
In the last few years, Marbella has been revamped to become a fashionable place to be, thanks to the controversial late mayor, Jesus Gil, who led a drive to landscape and improve the reputation of the city.
If you want to fit in and stand out on the Golden Mile or Puerto Banus, you can rent a luxury sports car. So if you ever dreamed about sitting behind the steering wheel of a Ferrari or Lamborghini, you can make your dreams come true in Marbella.
Why rent a luxury car on your trip to Marbella? Having a luxury car will enable you to enjoy the renowned comfort of these exclusive vehicles and avoid using taxis or other forms of transport. Aside from comfort and convenience, you will be able to fit in with the alluring upmarket crowd and visit some of the most elite restaurants, bars and clubs.
Aside from the incredible experience, you can enjoy driving your supercar without having to worry about the high maintenance costs and enjoy 24/7 support from teams of professionals to ensure that your rental experience is smooth and effortless, so you can fully enjoy your adventures.
In this article, we will look at several top luxury car rental agents with the best luxury cars at the best prices.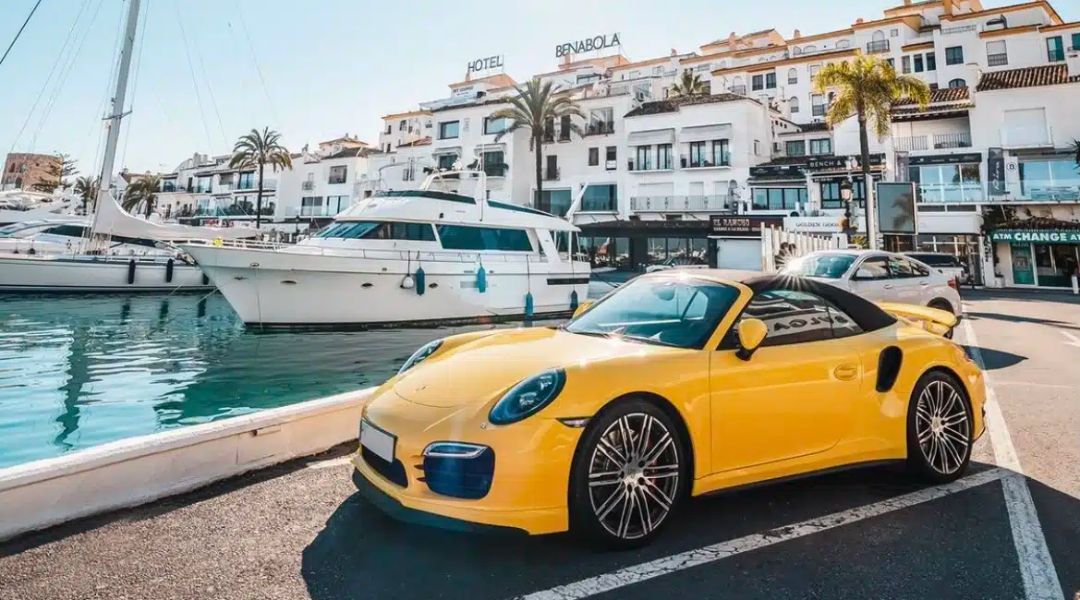 Luxury Car Rental companies in Marbella:
Elite Supercar is a specialised company that offers luxury car rental of cars, and they offer special rates for events, parties and weddings. Discover the joy of driving some of the best cars on the market, including high-end Bentleys and Ferraris from 850 euros a day, to the Lamborghini Urus from 1,850 euros a day.
Olymp Cars are situated in the heart of Marbella's luxury hub, Puerto Banus. They offer a professional, simple rental process, so you can focus on enjoying your stay. Prices for high-end cars start from as little as 150 euros a day in the low season, with an average price of 700 euros for a lot of excellent luxury cars, including the Audi R8 Spyder and Mercedes-AMG GLS63.
If you want to go from 0 to 100 km in less than 3 seconds, look no further than the sports cars at Rentlux. With 20 super sports cars and 24/7 service at your fingertips, the professionals at this rental agents will help guide you to enjoy the best your supercar has to offer with tips and tricks to get the most out of your vehicle.
Rent Luxe offers the usual selection of cars, but also offers incredibly special, exclusive cars such as the Ferrari La Ferrari, which you can rent for 22,000 euros a day. With only 499 cars in existence, this is as exclusive and luxurious as you can get. However, there are many other options on offer, including a wide range of Ferraris starting from 900 euros a day. Aside from Ferraris, there are Bugattis, Lamborghinis, Bentleys and Jaguars amongst their extensive collection.
If you're looking for something a little different, consider renting a classic car for your stay in Marbella. With a catalogue of immaculate cars and show winners, you're bound to stand out from the crowd in a stunning classic. Whether you prefer the sleek lines of the 1968 Corvette Stingray, or a 1958 Rolls-Royce, Classic Cars Marbella has it all. They also have an expert team to assist in the coordination of music videos, weddings, and rentals for films. They also offer a chauffeur service to ensure that you can arrive in style.
That completes our list of luxury car rentals in Marbella, but if you're looking for a regular car to get you around the city, at Vacation Marbella we help you make it possible with our special car rental service, to rent your car without complications, whenever you need it.