Marbella, known as the jewel of the Costa del Sol, is not only famous for its beautiful beaches and luxurious lifestyle but also for being an ideal destination for jewelry lovers. With a wide variety of stores and talented jewelers, Marbella offers a unique shopping experience for those seeking exquisite and high-quality jewelry pieces. In this article, we will explore the reasons why Marbella is considered a reference in the world of jewelry and present the top Marbella jewellery shops where you can find true masterpieces that will enhance your beauty and style.
Reasons why Marbella has gained a prominent reputation in the world of jewelry:
Tradition and craftsmanship
The city of Marbella has a long history in the jewelry industry. For decades, it has been home to talented jewelers and artisans who have perfected their skills over generations. This tradition of craftsmanship has been passed down from parents to children, creating a solid foundation of knowledge and expertise in creating quality jewelry.
Location and luxurious lifestyle
Marbella is known as a luxury tourist destination and a meeting point for high society. This reputation has attracted sophisticated and discerning clientele who seek exclusive and high-end jewelry. The stores in Marbella have adapted to this customer profile by offering innovative designs and precious materials to meet their refined tastes.
Renowned designers
Marbella has attracted nationally and internationally renowned jewelry designers. These designers have established their boutiques in the city to take advantage of Marbella's prestige and appeal as a luxury tourist destination. Their presence has further elevated Marbella's status as a prominent hub for acquiring high-quality and exclusive jewelry designs.
Variety and exclusivity
In Marbella, you will find a wide variety of jewelry stores, from traditional jewelers to contemporary design boutiques. This diversity of options allows buyers to explore different styles, trends, and price ranges. Moreover, many stores offer exclusive and personalized pieces, providing customers with the opportunity to acquire unique jewelry that they won't find elsewhere.
Top 5 jewelry stores you must visit in Marbella
1. Joyería García
We begin our list with García Jewelry, a renowned store that has been present in Marbella for decades. Their extensive selection of jewelry includes unique and exclusive pieces that blend classic design with modern touches. From elegant necklaces and bracelets to dazzling rings, García Jewelry takes pride in offering a personalized shopping experience and exceptional service.
2. Ruz Joyeros
Ruz Jewelers, an icon of jewelry in Marbella, has been a presence on the Costa del Sol for over half a century. This establishment is synonymous with elegance and refinement in both the jewelry and watchmaking realms. Their exquisite showcases display prestigious brands such as Patek Philippe, Cartier, Rolex, Hublot, and Panerai. Additionally, Ruz Jewelers has a specialized section for pawn and jewelry buying, providing additional options for their customers. Their customer service is exceptional, characterized by personalized and professional attention.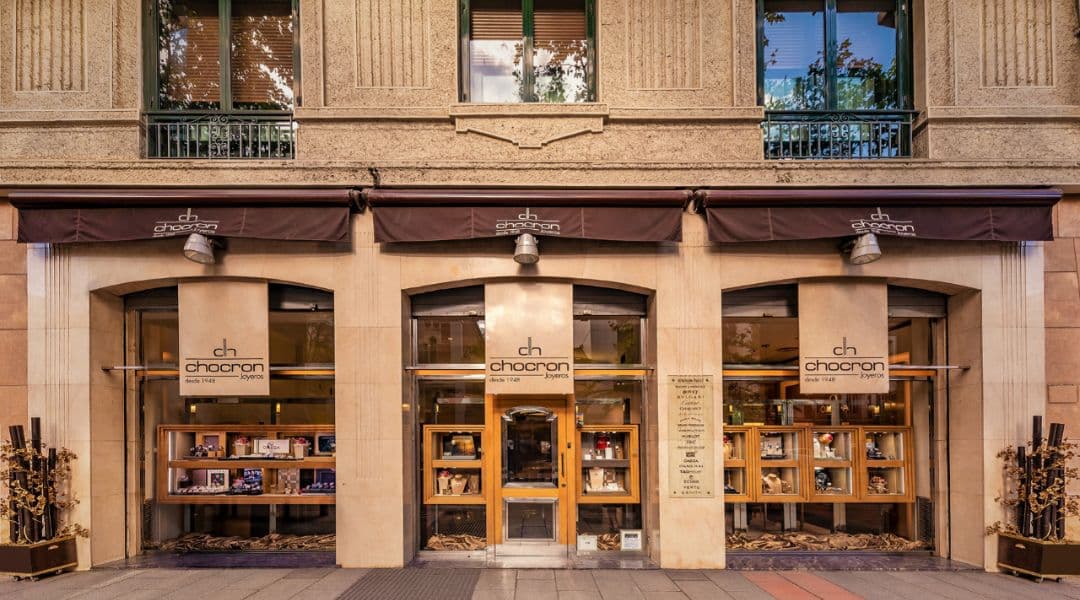 3. Chocrón Joyeros
Chocrón stands out as another reference in both Marbella and the entire Costa del Sol. Their striking shop window showcases the presence of the prestigious brand Cartier, giving a clear idea of the quality and excellence of the jewelry and watches available in this store. Chocrón is recognized as one of the best options for acquiring both Rolex and Cartier jewelry, as they offer a wide variety of both brands. In this jewelry store, customers will find a carefully curated selection that reflects the elegance and distinctive style of these iconic brands.
4. Gomez Y Molina
Gómez y Molina is a jewelry store characterized by its exclusive selection of renowned brands such as Gucci, Armani, and Hublot. In this establishment, customers can find unique and high-end pieces that reflect the luxury and distinctive style of these iconic brands. Excellence in customer service is one of its fundamental pillars and lives up to the highest expectations. This jewelry store has been part of the city since 1969, which speaks to its trajectory and prestige in Marbella. For all these reasons, it is considered one of the best jewelry stores in the city.
5. Joyería Joyitas
In the heart of Marbella, you will find Joyitas, a jewelry store that deserves recognition among the best for its unique approach. What sets it apart from others is its different and refreshing style. At Joyitas, you won't find excessively expensive pieces, as they are known for being affordable, but that doesn't mean compromising on quality or design. On the contrary, this jewelry store stands out for offering original and charming designs. Their selection includes pieces in gold plating, silver, and semiprecious stones that add a special touch to each jewel. Additionally, the staff at Joyitas strives to provide friendly and helpful attention, ensuring that every customer feels welcome and satisfied with their shopping experience.
If you're looking for unique and high-quality jewelry in Marbella, these stores are a must-visit. From establishments with decades of tradition to cutting-edge boutiques, Marbella offers an exceptional shopping experience for jewelry lovers. Explore these stores and be captivated by the beauty of their pieces.