Paella is an emblematic dish of Spanish cuisine and has a long history in the Valencia region, where it originated. Marbella, being a very popular tourist destination on the Andalusian coast, has adopted paella as part of its traditional gastronomic offer. In our article we recommend the 5 most popular restaurants where to eat paella in Marbella.
Being in a coastal region, Marbella cuisine has access to a wide variety of fresh seafood and fish. Marbella paella is often prepared with local ingredients, such as prawns, mussels, calamari and fresh fish, ensuring exceptional flavor and quality.
Marbella offers a unique Mediterranean experience, with its warm climate and beautiful views of the sea. Eating paella al fresco in a restaurant facing the sea or on a terrace with panoramic views is a delightful experience that perfectly complements the delicious food.
In Marbella, you will find a wide variety of restaurants that serve paella. From traditional places that follow authentic recipes to fusion restaurants that offer modern and innovative takes, there is something for everyone.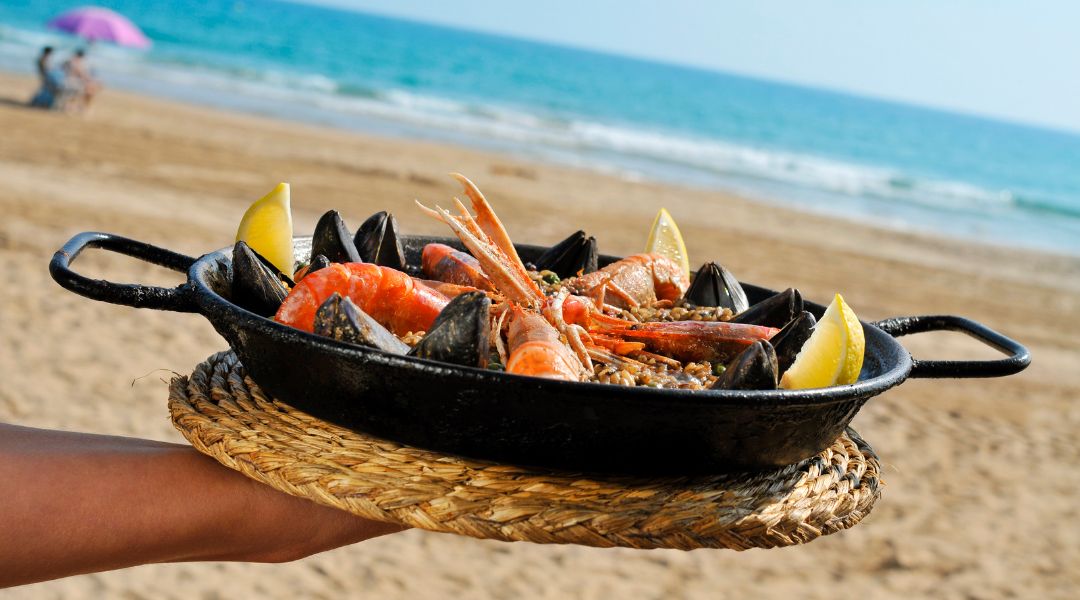 1. La Bocana Restaurant
La Bocana in Marbella is a charming restaurant with a privileged location in Puerto Banús. They stand out for their specialization in Mediterranean cuisine and for offering top quality seafood. His paella is extremely popular and has received excellent feedback from his customers.
Address: Paseo Marítimo, núm 2, 29600 Puerto Banús Marbella
Reservations: https://bocanabeachmarbella.com/
2. El Cortijo Restaurant
El Cortijo restaurant has specialized in Mediterranean and Spanish cuisine, and is well known for offering the best rice and lamb dishes in the area. In addition, its dessert menu is irresistible, highlighting delicious brownies, amazing apple pie and homemade ice cream prepared with care.
The selection of wines on its menu is wide and diverse, to satisfy the preferences of all diners. Also, you can not stop trying their spectacular lemonade. Many customers have highlighted the confidence that the staff in the place inspires, as well as the speed of service, something that the restaurant owners take care of with great care. According to the clients' opinions, the prices are good in relation to the quality of the food and the experience offered.
The atmosphere in "El Cortijo" is great, with a modern decoration that contributes to creating a pleasant experience. With a rating of 4.4 according to the Google rating system, this restaurant has won the appreciation of many visitors for the quality of its cuisine and the experience it provides to its diners.
Address: Calle Remedios num 5, Marbella
Reservations: 952 77 00 64
3. Chiringuito Los Tony's
Los Tony's beach bar is located in Marbella, specifically in Elviria, where you can enjoy one of the longest beaches in the Mediterranean. This place has different areas that adapt to each occasion, all of them with an extremely pleasant atmosphere. The location is exceptional as it offers panoramic views of Marbella, Africa and Gibraltar.
Los Tony's kitchen is well known in the area for its delicious rice and paella recipes, as well as for the freshness of the local fish they offer. Its terrace is simply unmatched and provides a perfect space to relax while contemplating the sea and enjoying the best company. Here you can immerse yourself in a unique environment and marvel at the beautiful sunsets while you savor an exquisite paella.
Address: Avenida del Naviero, 29604 Marbella
Reservations: reservas@chiringuitolostonys.com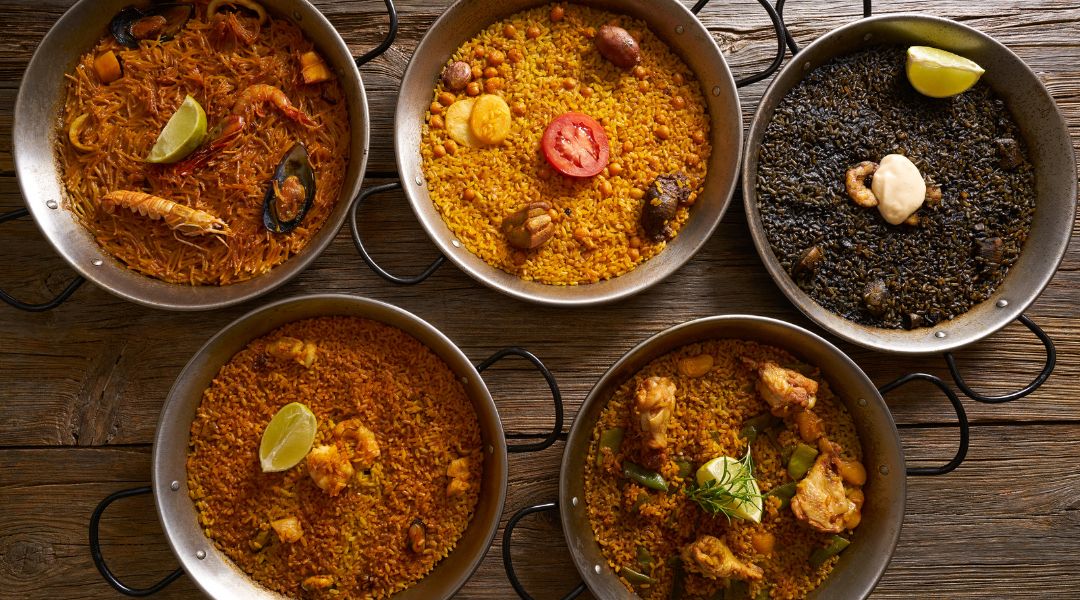 4. Paellas y más
Culinary experience rooted in tradition and passion. At the Paellas y más Restaurant, you will immerse yourself in a traditional cuisine that prides itself on using high-quality regional products. Its specialty is paellas, fideuás and acorn-fed Iberian hams; either grilled or prepared in various delicious variants. They also offer a wide selection of salads and fresh seafood.
Exceptional spaces and services. The facilities of the Paellas y más Restaurant include different areas to satisfy your needs and preferences. Enjoy its spacious and sunny terrace, or if you prefer, its cozy bar and its interior restaurant, ideal for romantic dinners, business lunches, celebrations, special events or private parties.
Address: C/ Hermanos Salom, 3 Entrance by Jacinto Benavente, 33
Reservations: +34 952 822 511 | reservas@restaurantepaellasymas.com
5. La Dolce Vita Beach
At La Dolce Vita, an exceptional culinary experience awaits you, where homemade dishes combine the best of Italy, Spain and the Mediterranean in a unique fusion of flavors. His interpretation of paella will pleasantly surprise you, leaving you in awe.
This paradisiacal place not only offers you delicious cuisine, but also additional services that will give you complete enjoyment. From refreshing cocktails to hammocks and Balinese beds, you can relax and immerse yourself in an unbeatable atmosphere. In addition, La Dolce Vita has the ability to organize special events, creating memorable moments for unique celebrations.
Delve into this gastronomic oasis and discover the best of Mediterranean cuisine with an Italian and Spanish touch at La Dolce Vita. It will be an experience that will awaken your senses and transport you to a world of flavors and pleasures.
Location: Playa del Cable-Banana, s/n. Marbella
Reservations: 951 89 82 97
Tasting a paella in Marbella will be a perfect choice on your vacation, as it will allow you to enjoy a traditional Spanish dish in a charming Mediterranean-style setting. You will enjoy fresh ingredients and a wide range of culinary options that will satisfy all your tastes. Regardless of which option you choose, an unforgettable culinary experience awaits as you immerse yourself in the beauty of our city.