Marbella, a jewel of the Costa del Sol, is not only famous for its beautiful beaches and lively marina. It is also a culinary paradise that is home to an impressive array of restaurants offering high quality dining experiences.
If you are considering a destination for a romantic getaway, don't miss this selection of some of the most charming romantic restaurants in Marbella and enjoy a memorable date. Marbella will offer you a multitude of activities to do as a couple. From luxury spa experiences, cultural events, unique sunsets on the best beaches to the best culinary experiences in award-winning restaurants.
With this backdrop, it's no wonder that Marbella boasts an impressive array of restaurants offering high quality dining experiences ideal for couples.
1. Blu Note
Nota Blu's atmosphere is sophisticated yet relaxed, making it the perfect choice for a special occasion or romantic dinner. The restaurant has a modern, minimalist design, with sleek white tables and chairs, dark wood accents, and plenty of natural light. The dining room is large and airy, with high ceilings and large windows facing the street outside. The atmosphere is elegant and refined, with soft background music creating a peaceful atmosphere.
2. Nu Marbella
The atmosphere of NU Marbella is a standout feature. The restaurant has an elegant and stylish decoration. A spacious outdoor space called Magical Garden with seating under the trees to listen to the birds singing, nothing can be more romantic than listening to them with your favorite person by your side. The open kitchen adds liveliness to the romantic atmosphere, as guests can watch the chefs in action and see their meals prepared to order. After dinner, the restaurant changes its atmosphere and transforms the stage into a nightclub, which will allow you to have a fun time and close your date in the most lively way possible.
3. Cipriani Marbella
If you like Italian food, Cipriani can be a very good choice. The atmosphere at Cipriani is sophisticated and refined, with sleek, modern decor and a warm, welcoming color scheme. Large windows allow in plenty of natural light during the day, while soft lighting and candles create a romantic atmosphere at night. There's a lively buzz in the restaurant, but it never feels crowded or overwhelming.
4. Skina
With a Michelin star, Skina offers a high-end culinary experience in a small space, ensuring an intimate experience. Their menu is based on local ingredients, and the wine list is excellent. Ideal for special occasions. Discovering the most authentic flavors of Andalusia in such a special place will be a unique experience to live as a couple.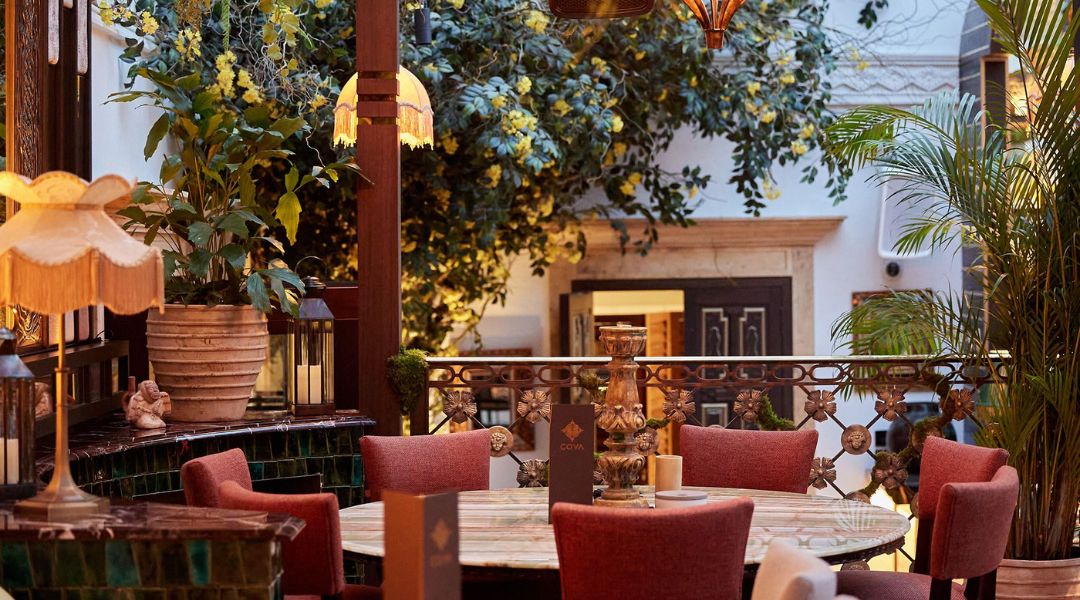 5. Messina Restaurant
Another Michelin star awardee, Messina offers innovative dishes in an elegant yet welcoming atmosphere. Its presentation is an art in itself, and each dish is designed to delight both the palate and the eye.
6. Jardins sur Mer
Located inside the prestigious Puente Romano Hotel, this restaurant offers a luxury dining experience. Enjoy an aphrodisiac Japanese meal with views of the Mediterranean, the perfect place to watch a sunset with a glass of wine in hand.
7. La Bocana
This harborside restaurant offers stunning views of the sea. Although it is known for its fresh seafood, its menu includes a variety of options to suit all tastes. The lights of the port and the sound of the sea create a perfect atmosphere for a romantic dinner.
Marbella is the perfect compendium of nature, luxury, culture and gastronomy, making it the ideal destination for those looking to create unforgettable romantic memories. Whether you celebrate an anniversary, a honeymoon or simply want to surprise your partner, this city promises moments that you will keep in your heart forever.